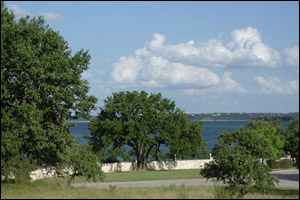 Canyon Lake, which was impounded in 1968, provides a source of recreation for more than 1.5 million visitors annually. One of the most scenic lakes in Texas, Canyon Lake has 8,230 acres of water at normal pool and approximately 80 miles of shoreline. As stewards of this project, the Corps of Engineers must use sound management practices to protect and preserve the project resources for future generations, while providing quality recreation opportunities for today's visitors.
It is operated by the US Army Corps of Engineers, Ft. Worth District. The primary purposes of the reservoir are flood control and water conservation; however, recreation and natural resources management are important dividends. The conservation pool of the reservoir is operated by the Guadalupe-Blanco River Authority in Seguin, Texas.
Canyon Lake and the Guadalupe River are the heart and soul of the Texas Hill Country. Located just forty miles north of San Antonio and twenty minutes from New Braunfels, Canyon Lake has much to offer whether summer, winter or fall. So, what's your preference? Water-skiing? Fishing? Parasailing? Jet skiing? We've got it all! Prefer a quiet afternoon floating down the mighty (quiet) Guadalupe River? Head to River Road and grab a tube from one of our many fine outfitters. Or just relax at one of the many fine lodges, bed & breakfasts or campgrounds.

White tailed deer and other wildlife abound, finding sanctuary in the residential neighborhoods. Many are fed regularly by local residents and become very tame.

Centrally located, Canyon Lake is perfect for "Day Trips" to Gruene, New Braunfels, San Antonio, Fredericksburg and Wimberley. Or visit one of our local vineyards for an afternoon of wine tasting.

I hope that you enjoy your stay at Canyon Lake, Texas.
Relocation
Information Provided by the Canyon Lake Chamber of Commerce
AREA/POPULATION & LOCATION

Canyon Lake is an unincorporated area, comprising the communities of Sattler, Startzville, Cranes Mill, and Hancock in Comal County , TX .
2000 estimated population: 29,000
The lake is 18 miles West of New Braunfels , the Comal County seat
23 miles WSW of San Marcos
44 miles N of San Antonio
54 miles S of Austin

WEATHER

Mid-summer average: 83.1° F
Mid-winter average: 51.5°F
Average Rainfall: 28.8 in/year

TAXES

No State personal income tax
Sales tax: 8.25%
Comal County tax: (1998): .318103 per $100 assessed valuation
Comal Independent School District : (1998): 1.76838 per $100 assessed value (frozen at age 65)
Homestead exemption: eligible to anyone who is in a primary residence in Comal County by 1 Jan of the tax

year. Contact the county assessor for your particular circumstances but generally you receive 20% off the assessed tax value of your home, for the CISD you receive the 20% plus an additional $15,000 off of the assessed value and for the Farm Road and Flood assessment you receive the initial 20% reduction plus an additional 3%.

UTILITIES

Electricity: Pedernales Electric Cooperative
Telephone and Internet:
Continental Long Distance
Guadalupe Valley Telephone Cooperative
LP Gas: individual tanks with local service
Water: Canyon Lake Water Supply Corporation and individual subdivision water systems & private wells
Sewer: individual septic tanks
FINANCIAL

2 banks
3 mortgage companies 1 title company
MEDICAL

1 Physicians (General Practice)
3 Dentists
1 Chiropractic clinic
McKenna Memorial Hospital : New Braunfels
Canyon Lake Medical Clinic: Sattler
McKenna Medical Clinic: Sattler
Central Texas Medical Center : San Marcos
PROFESSIONAL SERVICES

5 Attorneys
3 Certified Public Accountants
3 Veterinarians
1 Pharmacy: Sattler
EDUCATION

Smithson Valley High School
Smithson Valley Middle School
Mountain Valley Middle School
Mountain Valley Elementary School
Bill Brown Elementary
HIGHER EDUCATION within 60 miles of Sattler

University of Texas , Austin
University of Texas , San Antonio
Texas State University , San Marcos
Incarnate Word University , San Antonio St.
Mary's University, San Antonio
Texas Lutheran College , Seguin
Trinity University , San Antonio
Austin Community College , Austin
TRANSPORTATION

Public

New Braunfels

Municipal Airport

San Marcos Municipal Airport

Austin International Airport

San Antonio International Airport

Canyon Lake Airport ( PRIVATE)

Greyhound Bus, New Braunfels

Freight
COMAL

COUNTY

NEWSPAPERS

San Antonio Express-News ( daily )
New Braunfels Herald-Zeitung ( daily )
RECREATION AREAS

7 US Army Corp of Engineers Parks and 2 Military Recreation Areas
Canyon Lake Golf Club, Canyon Lake
Canyon Lake Community Recreation Center
Landa Park Municipal Golf Course, New Braunfels
Lee's Par 3 Inc., New Braunfels
Northcliff Golf and Country Club
Rebecca Creek Golf Course, Spring Branch
Sundance Golf Course, New Braunfels ( executive )
The Bandit Golf Course, New Braunfels
Woodcreek Country Club, Wimberley ( 2 courses )
BOATING

Canyon

Park Marina

Cranes Mill Marina

Hill Country Yacht Club, Canyon Park

Marina Lake Canyon Yacht Club, Canyon Lake

ACTIVITIES
ATTRACTIONS and EVENTS

Commemorative Air Force Museum - San Marcos Airport
Guadalupe River and Comal River
Heritage Museum & Dinosaur Tracks of the Texas Hill Country
River Road Scenic Drive
Specialty Shops and Restaurants
Annual RV & Boat Show - April
Annual BBQ Cook-off - April
Annual 4th of July Parade - July: Startzville
End of Summer Celebration - September
Annual POW-WOW: International Reunion on the Guadalupe - October
Annual Veteran's Day Dinner/Dance - Commemorative Air Force San Marcos Airport - November
Parade of Lights on Canyon Lake - December
Annual Christmas Parade - 2nd Sat. in December
GENERAL INFORMATION

The population growth of Canyon Lake has been dramatic, as expected, since the construction of the dam in the mid 60's. The US Census Bureau did not recognize Canyon Lake as a distinct community until 1980, so the initial growth was not tracked. The 42 percent growth in Comal County between 1980 and 1990 is largely due to the population increase within the Canyon Lake area. Lake area population is expected to double every 20 years.
With an estimated 1.1 million visitors per year, Canyon Lake is a showcase that brings previous visitors back to become permanent residents. Visitors, attracted by our unique blend of climate, recreation and culture, travel from all over the world, adding to the experience.